I'm a thrifty girl, it's in my blood. As the youngest of four children, with a stay at home mom and a government employed dad, I learned early on about budgets, hand me downs, and making things last. I would love to know how my mother made a pound of hamburger stretch to feed six people for 2 meals! We weren't poor by any means, and I had a wonderful childhood that wasn't wanting, but I was taught the value of a dollar and how to save up for a rainy day from a young age.
My husband is also from a fiscally conservative family and our upbringings are very similar so he is 100% behind me and my thrifty ways! He and I play a guessing game whenever I find something when I'm out on one of my shopping adventures. I'll proudly display whatever it is I have purchased, and then ask while beaming ear to ear..."how much do you think I paid for this?" and he will try and guess. I think he has learned in the 23 years that we've been married to "high ball" the price, knowing it will make me feel even more satisfied when I can announce that I got if for less...smart man!
So yesterday, after feeling a bit under the weather the past few days, I ran out to mail some packages and catch up on errands. I also wanted to stop by a thrift store I've been trying to get to for months now. It wasn't on the way to anything else on my list, but my 17 year old son agreed to go along for the ride (5 stores, the post office, and one pharmacy later he would re-think his decision...XO Bugs!) so off we went with the thrift store being the first stop of many.
The Spot Thrift Shop
is located in St. Leonard, Maryland and was opened to help support
Southern Maryland Spay & Neuter, Inc.
, a non profit organization dedicated to helping control the pet population here in southern Maryland.
The shop offers something for almost everyone. The main level has housewares, books, videos, jewelry, and even small appliances. Go down a few steps and you'll find small furniture items and artwork. The basement was chock full of clothing, shoes, and accessories.
But the best part, besides the great prices of course, is that the proceeds go toward the important task of spaying and neutering local animals, which benefits area animals
and
people.
With so much great "stuff" to choose from, it was no surprise that I walked out with a "find" of my own. I've been wanting a nice big pottery mixing bowl, but have balked at the high price tag on most of the "real" antique yellow ware ones I've come across recently, so I was delighted when I found a cream colored one with a pretty blue stripe on it for just $10.00!!! It's not old, but I love the size and the color...it's just what I've been looking for. And because it's not an antique I think I'll be more likely to use it for baking cookies or filling it with strawberries, come summertime.
Here she is taking a bubble bath in our farm sink. I think she's even smiling a little because she's happy to be back in someone's kitchen!
After her bath, she decided to lounge in the sun a little and dry off.
And here she is, feeling all pretty and fresh and ready for duty! I know she will love the fresh fruit from our blueberry bushes when July rolls around!
It's time for
Nifty Thrifty Tuesdays
at
Coastal Charm
head on over for wonderful thrifty finds!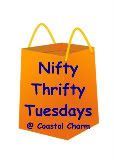 and

I'm linking up for
Thrifty Thursday
over at
Tales from Bloggeritaville
!